Our Mission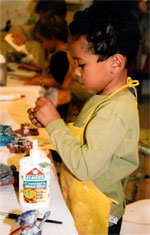 Artreach at Lillstreet is dedicated to bringing hands-on art making experiences into your community. Whether your community is an elementary or high school, a nursing home, a church, an after school group or something completely different, we are there for you. Or here, if you prefer, with an on-site field trip to our sister organization the Lillstreet Art Center.
Artreach at Lillstreet is a not-for-profit, 501(c)3 organization providing low-cost, high-quality arts education and public art programs for people and communities in need – and we believe all communities need art. We serve more than 5,000 youth and adult students per year with hands-on art making experiences in ceramics, painting & drawing, puppet & mask making, and more. As such, we are making art and expression more available, especially to groups who often lack a voice in our society.
News & Events
Mother's Day Handmade Vase & Flower Sale



Bring the kids and join us on Friday, May 4 from 6 – 9 for some wine & cheese during our Handmade Vase & Flower Sale. Proceeds of all sales go toward our children's art education programming. We are partnering with the Art Center for the "Drop 'n Shop" so you can bring the kids and they can make art with one of our fun kids teachers while you shop, nibble, and relax at Lillstreet. Vase Sale continues through Saturday, May 5, 10 – 6 p.m.